There are a lot of things to choose from for a modern kitchen. There are only a dozen types of pans. Wok, pancake maker, roaster – what is best for cooking various delicacies? Choose light aluminum cookware or reliable cast iron? What should be the non-stick layer? The answers to these questions are already in the article.
Types of pans
Types of pans by purpose:
In one dish, you can cook meat perfectly, in another – fry pancakes, and the third replaces the grill. What kind of utensils should the hostess choose? Next, there are 6 types of pans, with different purposes.
Classic
A versatile option for stewing, frying, sauteed with all sorts of homemade dishes. This kind of look is sure to be found in the kitchen of any hostess. Its distinctive features are the rounded shape, the presence of elongated handles, smooth bottom.
The classic type of frying pan is made of a traditional container made of various materials: from aluminum to cast iron. The diameter of the bottom and the height of the walls can also be very different. There are pans ranging in size from 7 to 11 in. Walls of the average height of ≈ 0.7-1 in.
Brazier
Heavy kitchen utensils. Most often it is made of high-temperature-resistant steel (cast iron). The dish looks like a round bowl with small handles on the sides. The bottom is smooth, smooth, multi-layered.
The frying pan is a very notable type:
thick bottom and walls protect food from burning;
heat is evenly distributed during cooking;
cooking is possible on the stove and in the oven (thanks to small heat-resistant handles).
The roaster is ideal for baking juicy, browned meat and fish delicacies, vegetables, stewing and frying various dishes.
Grill pan
It has an easily recognizable appearance due to the ribbed bottom, which does not stick to food when cooking. The container has a square or round shape and 2 handles one oblong, the second – a small, rounded.
Pan of gelosamente the grill pan:
You can use a little oil or do without it at all.
The ribbed structure of the bottom protects the products from being soaked in oil, which means that the dishes are low-fat and healthy.
Thanks to the raised bottom, the cooked food remains toasted strips, as if from a grill.
The container quickly warms up and cools down for a long time, food is prepared in a short time, does not dry out inside.
The container is intended only for frying. Meals on these dishes that are juicy inside and crispy outside.
Stew-pan
2-in-1 capacity: frying pan and pan. The walls and bottom are quite thick, which makes it possible to prepare first dishes, sauces, pilaf, roasts, and even desserts.
The saucepan is ideal for stewing and languishing delicacies. During cooking, you need to add a small amount of liquid (water, tomato, broth), due to which the products are brought to readiness without strong frying.
The frying pan is a saucepan what else is remarkable about it:
use is allowed both on the stove and in the oven;
the surface is heated evenly from the middle to the edges;
the fluted bottom protects food from burning.
Characteristic features of the saucepan-high sides, thick bottom and walls, there is a lid and handles (often "unfastened" to place dishes in the oven).
Wok
Such a pan can immediately be recognized by the unusual shape of the bottom of small size, the upper part of the dish is wider than the bottom. The sides are high, the bottom is flat.
Wok Frying Pan
Distinctive features of the container:
the walls are of small thickness, so the vessel heats up very quickly;
food is obtained with a crust on the outside, all the juices are stored inside.
The wok is used for lightning-fast frying, extinguishing components. This is an ideal option for fans of Asian delicacies.
Nuance: to properly prepare delicious treats in a Wok, it is recommended to cut all the components flat and thin. Instead of oil, you should use sauces and different marinades.
Pancake maker
Low sides (≈ 0.7 in), wide bottom – the main features of this species. The shape is rounded. The diameter of the lower part may be different, the material of manufacture-aluminum, copper, cast iron. There is an oblong non-heating handle.
The pancake pan is covered with a non-stick layer so that the pancakes do not stick to the surface during cooking. The thick bottom warms up evenly, perfectly keeps the heat. Pancakes are fried on all sides. Due to the low sides of the pancake container, pancakes, omelets are easily turned over with a spatula.
Types of pans based on materials
Its durability, resistance to deformation, and the ability to withstand high temperatures when heated depend on the material used for making dishes. There are 6 main types of raw materials for frying pans.
Ceramics
Absolutely safe material with non-stick properties. The main advantage of such containers is environmental friendliness because the coating contains only natural components (water, sand, stone chips). The inner surface is easily cleaned from dirt.
Pan with ceramic coating
Ceramic pans are not afraid of high heat (up to 842 °F). The service life is quite long. The only thing – do not drop such products and put them hot under cold water. This may damage the container.
Ceramic pans have different colors of the inner surface. For fans of original dishes-the very thing. There is also a benefit for connoisseurs of healthy food – when cooking on ceramic pans, you can do without oil.
It may come in handy: Choosing a kitchen stove-gas or electric stove for your kitchen: 5 main criteria
Iron
The material is heavy but durable. It is serving for decades. Cast-iron pans are cleaned by various means (even with abrasive particles), without fear of damaging the walls or bottom. You do not need to purchase additional silicone spatulas to turn the food.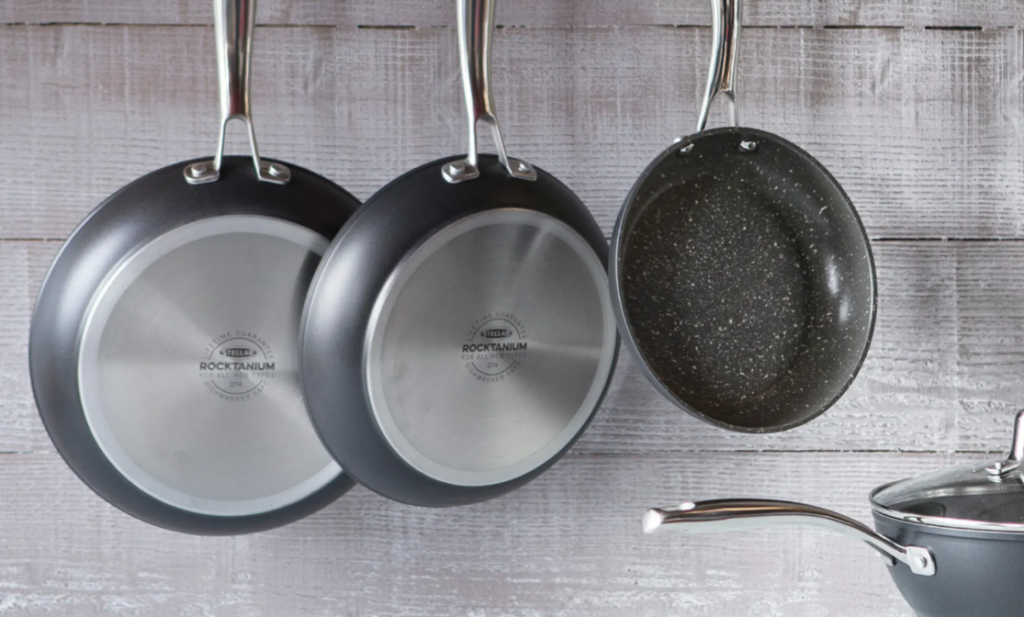 Pans made of cast iron
Additional advantages of cast iron utensils:
ability to warm up the entire area well;
heat preservation for a long time;
non-stick properties, food is guaranteed not to stick to the surface.
Cast-iron containers are perfect for languishing, stewing, frying delicacies.
Steel pans
Lighter than cast iron, but heavier than aluminum.
Advantages of stainless frying pan:
the walls are well warmed up and keep warm for a long time (an excellent option for languishing delicacies);
resistance to household damage, rust;
metal does not emit harmful substances when heated.
All kinds of dishes can be prepared in steel containers: from fried potatoes to stew, saute or pilaf.
Nuance: for cleaning, you should not use abrasives, so that there are no ugly scratches on the surface of the dishes.
With stone coating
The base of the vessel is a strong metal. The outer coating is a thin diamond, granite, and marble layer. Multi-layer walls and bottom provide strength and wear resistance to stone containers.
Stone-coated pans
Their main features:
Eco-friendly due to the coating made of natural materials.
Non-stick – food does not stick to the surface.
The thermal conductivity of the stone particles provides even distribution and heat retention.
Stone utensils have thick sides (from 3.5 mm) and bottom (from 6 mm). It can be used with any kind of plates. Allowed to be washed in the dishwasher.
You may be interested in: stone-coated Pans-which are better: a choice of 4 parameters
Aluminum
Budget version of kitchen utensils. Their main advantage is light weight. In addition, aluminum cookware heats up quickly. Aluminum is a strong material, which means that the utensils will last for many years.Aluminum frying pan
Features of cooking and care of such containers:
to prevent food from burning, it is necessary to fry dishes on a small fire, mixing the ingredients;
it is better to use a silicone or wooden spatula for stirring, so as not to damage the inner surface of the container;
do not clean aluminum pans with alkaline solutions, you need to use gel products without abrasive particles.
For greater strength and resistance to deformation of dishes, manufacturers add various alloys to aluminum.
Titanium coating
Titanium is a strong and lightweight metal. The raw material has anti-corrosion properties and can withstand temperature changes. Frying pans are not 100% made of titanium, microparticles of this material are used to protect the surface of products from household damage, rust, and strong heating.
Pans with titanium coating the number of containers with titanium coating:
the inner layer has a dense and smooth structure, the food literally "slides" along the bottom, does not burn;
by weight, these products are lighter than cast iron, but the strength is not inferior to them;
dishes are not deformed by extreme heat;
the same heating over the entire area of the container.
In such products, you can use oil and fat for cooking at a minimum.
Nuance: titanium tableware with a cast base will last much longer than with a stamped one, however, it will cost more at the price.
Types of non-stick coatings
Considering in detail what are the pans, you can not bypass the coating that protects the surface from burning food. After all, without this element, Housewives would have to "rip off" burnt fat and food remnants after cooking for a long time.